A castle to awaken memories of medieval Normandy
The ruins of Robert the Devil's castle stand on the foundations of a fortress which is believed to date back to the time of ducal Normandy. Although it is often said that castle was founded in the 11th century, the earliest reference to the fortress of Moulineaux is 1180, i.e. a century later

In the course of its history, the castle was destroyed and rebuilt several times. It was first demolished between 1203 and 1204 at the time of the conquest of Normandy by Philip Augustus, and was repaired a number of times before being destroyed once again during the Hundred Years' War.
During this conflict, the castle was temporarily seized by English and Navarrese troops. It was finally returned to the King of France and completely destroyed in the spring of 1418 so that the advancing English army could not use it to attack Rouen.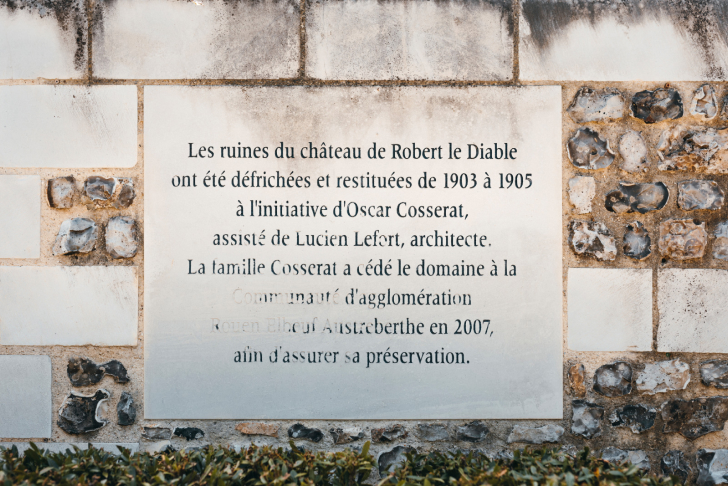 Since that time the castle has been in ruins.
In the 18th century, interest in the romanticism of the ruins began to revive. It was around this time that Moulineaux Castle became known as Robert the Devil's Castle.
In 1903, the industrialist Oscar Cosserat bought the ruins with the intention of rebuilding the castle. The work was carried out under the direction of the architect Lucien Lefort, a student of Viollet le Duc – an architect renowned for his restoration of medieval buildings (Notre-Dame de Paris and the Château de Pierrefond among others). The idea at that time was to restore the ruins to create medieval fortress as it was imagined based on the incomplete archaeological knowledge of the 19th century. In the 1950s the castle was converted into a museum of Viking and Norman history. It closed in 2004, was bought by the Metropole Rouen Normandie in 2007 and was extensively refurbished between 2009 and 2013.
Read also